Journey to Cape Town, the oldest city in South Africa, and you're sure to find magnificent natural landscapes, dramatic coastlines and colourful sights! (Instagram Spots in Cape Town)
In fact, there's something here for everyone — whether you live to capture nature's magical moments or seek solitude in the city's secret attractions, the "Mother City" is full of hidden gems worthy of a spot in your feed. With that said, here are some of the top Instagram spots in Cape Town (in no particular order)!
.
#1 – Belmond Mount Nelson Hotel
A luxury accommodation nestled inside a garden estate whilst being overlooked by Table Mountain, the Belmond Mount Nelson Hotel is not only a wonderful place to stay in but also a lovely spot to take photos in given its frosted pink facade! As one of the best Instagram spots in Cape Town, you'll definitely feel as though you've been whisked away to a set of a Wes Anderson movie.
Rest assured, if staying the night is not possible, you can always make an afternoon reservation for their formal tea service so that you can also gain access to the hotel's well-kept gardens.
.
#2 – Kasteelspoort
Found on the western slopes of Table Mountain (along the Twelve Apostles side) is this breathtaking hike of Kasteelspoort. It's actually a bit challenging as you go through rocky terrain, but I assure you: it will all be worth it once you see the picturesque view over Camps Bay and the blue seas.
If you're feeling adventurous, you must take a photo on the rocky formation at the top that's called as the 'Diving Board' (as pictured above).
.
#3 – Chapman's Peak Drive
This is often referred to as one of the most scenic drives in the world — and I must say that they are absolutely right on that. I drove on this stretch myself as it runs between Hout Bay and Noordhoek, and I have witnessed tons of amazing views that made me do more stops than I thought I would make!
So when you snake through Chapman's Peak Drive, you should definitely keep your camera ready at all times; but of course, always take great care when driving too.
.
#4 – Bo-Kaap
When thinking of the best Instagram spots in Cape Town, the neighborhood of Bo-Kaap is a must to see. Formerly known as the Malay Quarter township, this colorful part area is found on Signal Hill and is a historical center of Cape Malay culture in the city.
So do make sure to spend some time walking around the pretty colored houses that dot the cobbled streets of Bo-Kaap and you're sure to find a lot of photo opportunities!
.
#5 – Camps Bay
Known for its white sand beaches, natural rock swimming pool and views of the Twelve Apostles Mountains, the Camps Bay area is a must to visit on your list.
Speaking of the pool, take note of the Maiden Cove Tidal Pools that's located between Clifton and Camps Bay beaches. It's not only a nice place to take a dip in but also a great place to have a grand backdrop of the Twelve Apostles. (If you have a drone camera, make sure to take photos from above!)
Otherwise, you will love the natural boulders speckled across the beaches, as well as the posh restaurants and cafes that overlook the promenade.
.
#6 – Gondwana Game Reserve
Looking to check the Big Five off of your bucket list? Head on over to the authentic and luxurious African safari park of Gondwana Game Reserve!
I had the chance to stay there for several nights and I can honestly say that it is the best safari reserve that's close to Cape Town (you'll need to drive 5 hours to Mossel Bay, a malaria-free area). Apart from the wild animals that will surely be a joy to see on your feed, you will also certainly love the accommodation's amenities, African design and interiors!
.
#7 – Table Mountain
Naturally, this is one of the top Instagram spots in Cape Town!
This iconic flat-topped mountain is a significant tourist attraction, and for good reason: it is a gorgeous landmark. To reach the top (Maclear's Beacon at 1,088 meters above sea level), you can use the Cable Car or hike towards it — some of which are Kasteelspoort (as listed in #2 above), Skeleton Gorge and many others.
Take note that if you take the Cable Car, you won't be missing anything either since it goes around the mountain.
.
#8 – Muizenberg
This beach-side suburb is an amazing surfing spot in Cape Town, and if you're a surfer, it's a great opportunity to take some epic photos.
But if you're not up for that kind of activity, you can always check out the famed colorful beach houses found on St. James Beach! Make sure to come here during the golden hours (early AM or near sunset time) to take that perfect shot.
.
#9 – Beta Beach
Apart from Camps Bay and Maidens Cove, Beta Beach in Bakoven is yet another prime beach location in Cape Town — more so because not a lot of tourists would be flocking over this place as it's quite secluded (there's a walkway in Beta Road between the posh-looking houses that lead to this beach). But of course, the views here don't disappoint!
A helpful tip is to try and take shots by the towering boulders; if not, there are a lot of angles that capture the prominent views of the Twelve Apostles and Lion's Head.
.
#10 – Kloof Corner
Don't mind the effort if in return you get spectacular views and memorable pictures? Hike over to the classic route that's called as Kloof Corner Ridge.
It's steep and rocky, but it will only take 20 minutes; after which you will get to acquire a grand birds eye view of Camps Bay and the Lion Head in the distance. (I recommend coming here before sunrise or sunset!).
.
#11 – Diagonal Cave
Yet another Cape Town hike, the Diagonal Cave route is just a kilometer off the Pipe Track and it's a beautiful route that leads you to a scenic Table Mountain cave.
Take note though that this is a bit of challenging route as it's ragged and steep, but it will all be worth it once you see the view!
.
#12 – Cape Point
Falling within the southern section of Table Mountain National Park is one of the best Instagram spots in Cape Town: Cape Point. This is basically a promontory of the Cape Peninsula and it features mountainous and scenic sights that are not limited to rolling green hills, dashing bays, sweeping cliffs and so much more.
Simply spend some time here and there will be no shortage of great photo spots that can be used as your social media content for weeks!
.
#13 – Suther Peak
And we're back with yet another hiking trail called as Suther Peak; but this is one of the lesser-known ones so you're sure to surprise a lot of your followers, friends and family.
But then again, this is a strenuous endeavor that is steep and challenging so you will need to be reasonably fit to conquer this route; nevertheless, the scene at the top will grant you an epic coastline and view. I'd highly recommend it!
.
#14 – Babylonstoren
As one of the oldest Cape Dutch farms, Babylonstoren will be a joyous location to go through for your photos.
With its charming garden, unique accommodation, and interior design among many others, you're sure to have a lot of people asking you for this undiscovered photo spot.
.
#15 – Tranquillity Cracks
This is a popular 2-hour hike in Cape Town, and its name is derived from the deep fissures in the rocks above Camps Bay through which you will be passing along through the Twelve Apostles.
It will be a tight squeeze but there are a lot of unique rock formations here for your gram (as seen above).
.
#16 – Lion's Head & Wally's Cave
Of course, no visit to Cape Town is complete without hiking up to Lion's Head — a mountain that's between Table Mountain and Signal Hill, with peaks at 669 meters above sea level.
Along this trail, you'll also discover a lot of Instagrammable spots as well as a number of hidden caves: one of which is Wally's Cave which has a perfect view of Table Mountain. Take note though that this cave is off trail with treacherous steps, so take caution.
UPDATE: As of 2019, Wally's Cave is no longer accessible. It has been permanently closed due to erosion.
TIP: Check out Little Lion's Head too in Llandudno.
.
#17 – Boulder's Beach
Apart from its wonderful granite boulders, you will absolutely be smitten with this beach's large colony of African penguins! You're always free to climb over the boulders, explore the rock pools and swim in the waters; but please just don't touch the penguins (if they come touch you, then you're lucky!).
Either way, more recently, boardwalks have been built and it winds through the dunes and vegetation so that you can have nice spots to look over the nesting penguins and their chicks (when I walked through it, I often saw penguins passing through or sleeping on the side. They were incredibly cute!).
TIP: If you want to avoid the crowd, head over to the nearby Windmill Beach. It may have lesser penguins but it's a better place to be in. (If you're into diving, it's also known for being a prime diving spot!).
.
#18 – Kogelberg Nature Reserve
This is said to be South Africa's first UNESCO Biosphere Reserve and it is about 7,400 acres along with the Kogelberg Mountain Range. With over 1,600 plant species, it is also said that it has a floral diversity per unit area that is far greater than anywhere else in the world!
That being said, I would highly recommend walking through the park to witness its natural beauty. Besides, you're sure to find more than enough photo locations to fill up your camera with.
.
#19 – Kirstenbosch
Found at the eastern foot of Table Mountain is Kirstenbosch which is one of the greatest botanic gardens of the world.
As one of the top Instagram spots in Cape town, you'll find a number of gardens here and a large conservatory that exhibits plants from a number of different regions.
TIP: Don't forget to drp by the picturesque Boomslang walkway. If you want to beat the crowd, come here early in the morning.
TIP: Don't forget to drp by the picturesque Boomslang walkway. If you want to beat the crowd, come here early in the morning.
.
#20 – Stellenbosch
Stellenbosch is surrounded by vineyards as well as the mountainous nature reserves of Jonkershoek and Simonsberg.
As such, it will be best to visit one of the wineries and enjoy its lush and rustic vibe. Some even offer the chance to do a horseback ride through the vineyard like that of Boschendale Wine Farm!
Whatever your fancy is, there is a wide number of Instagrammable places here to fill up your day.
.
BONUS – Helicopter Ride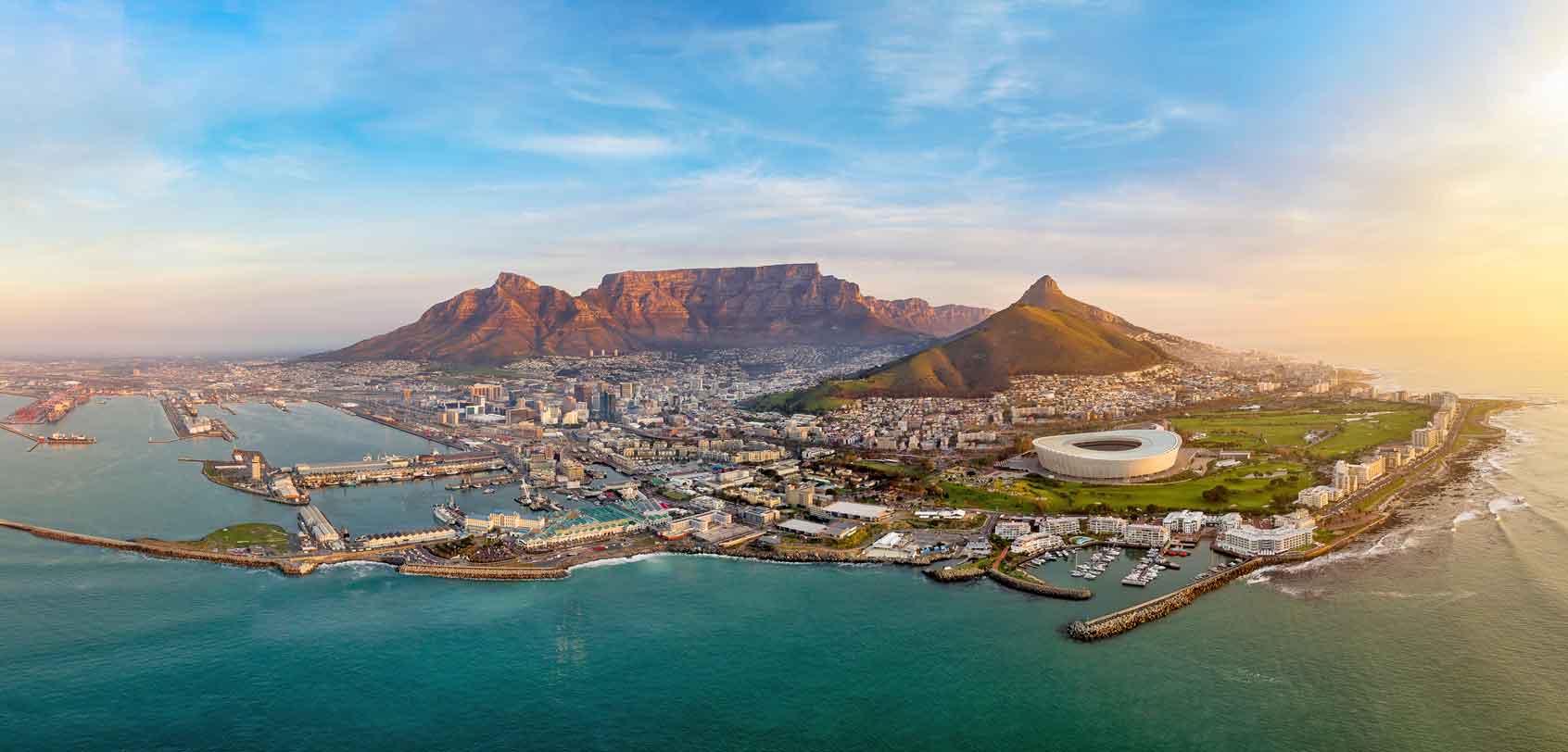 Wanna capture this view? Then hop on a helicopter tour!
There are a number of providers for this activity in Cape Town, one of which is Helicopter Tours Cape Town.
.
The post Top 20 Instagram Spots in Cape Town, South Africa appeared first on I am Aileen.